NDT Of Hot Rolled Black Bars. Why AC Magnetic Flux Leakage Method Is Preferred?
Hot rolled black bars are ideal as raw materials for forging and engineering applications. They are consumed in large quantities in the automobile, construction, machine manufacturing and agriculture industries. Due to the manufacturing process of the hot rolled black bars, the material surface is rough and contains scales. Due to the cool down process, there are slight distortions in the dimensions as well. These conditions are ideal for the application of AC Magnetic Flux Leakage (MFL) method for testing the bars for surface longitudinal and crack defects.
The Circoflux family of magnetic flux leakage testing solutions provide a contact method of crack detection on the challenging black material surfaces. The probes and the magnetising yokes rotate at a high speed around the bars, enabling high test throughput and reliable detection of cracks.
Institut Dr. Foerster GmbH & Co. KG has a well established worldwide after-sales and support network. Along with a successful partnership with EECI in India, the Circoflux systems are proven to run efficiently round the clock for maximum productivity. A 24/7 helpline as well as on-site services ensure that the production lines and testing teams are well supported.
Below is an in-depth comparison of why AC-MFLT is preferred over traditional/array eddy current (ECA) testing methods:
| | |
| --- | --- |
| AC-MFLT  | ECA  |
|  High sensitivity during the testing, with a capability of identifying 0.1 mm depth defects | Minimum defect depth detectability is 0.5 mm due to significant influence of the rough material surface as well as the permeability on the highly-sensitive eddy current probes |
|  The high permeability of the material is an advantage for the AC-MFLT method, thus improving defect detection and test results | High permeability of the material and rough surface adversely affect the eddy currents, thus, increasing the general noise levels. Signal to noise ratio (SNR) is not as good as AC-MFLT |
|  No need for magnetisation or demagnetisation. Thus, the material structure is not altered during the AC-MFLT test procedure | DC-Magnetisation can be used to reduce the noise levels. However, this leads to a high rest magnetism and also a need for a demagnetisation unit |
| No need to alter test frequency to reduce the noise levels | Higher test frequency can be used to reduce the noise levels. However, this reduces the penetration of the eddy current signals immensely |
| Adaptable mechanics, suitable to inspect rough surfaces with larger dimensional tolerances and bends | Requires precision guiding mechanics with probe positions close to the bar surface. Higher probability of probe damage as the clearance from the surface is very small. This leads to a very high operating cost. |
| Common probe size for complete range of bar diameters. Thus, change over time and calibration times are low and can be re- called from previously saved settings. Diameters that can be tested by AC-MFLT range from 10 mm to 260 mm | Probes need to be changed based on the bar diameter. Thus, change over time and calibration time are significantly larger |
| Proven world wide for inspection of black materials, with over 190 successful installations | Very few installations – multiple cases where ECA has been replaced by AC-MFLT |
Below is a comparison of test signals using AC-MFLT vs ECA: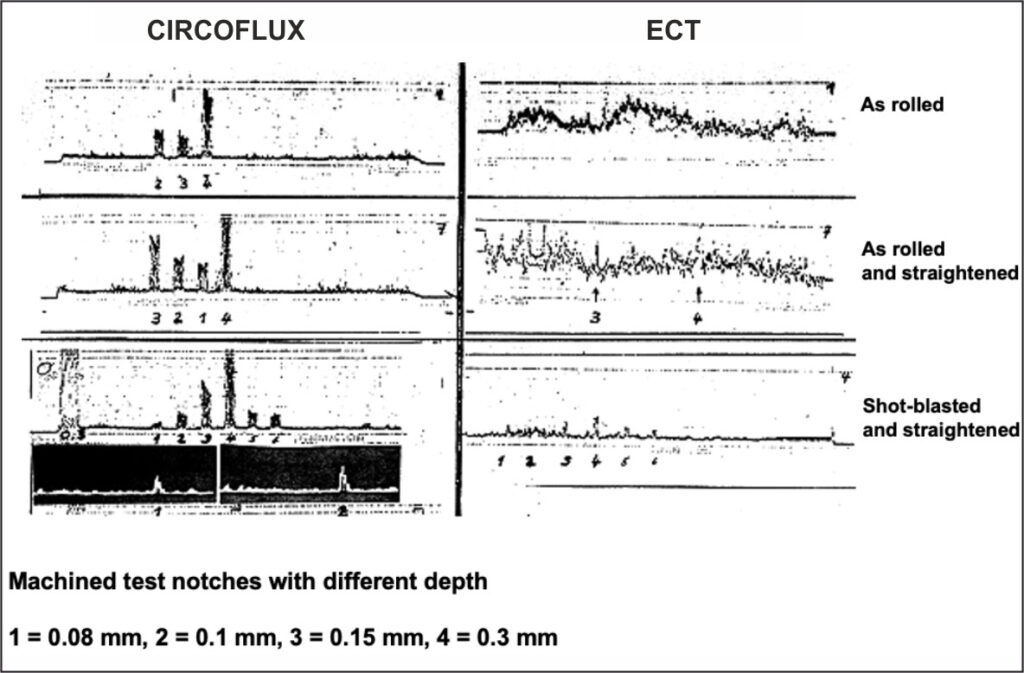 It is evident that the S:N ratio achieved with AC-MFLT is more superior than the results achieved with ECA.
To discuss your NDT requirements, please get in touch with our sales team.